So here comes another new kpop group from the korean music industry.
Introducing~
CROSS GENE
(Another weird group name.. haha)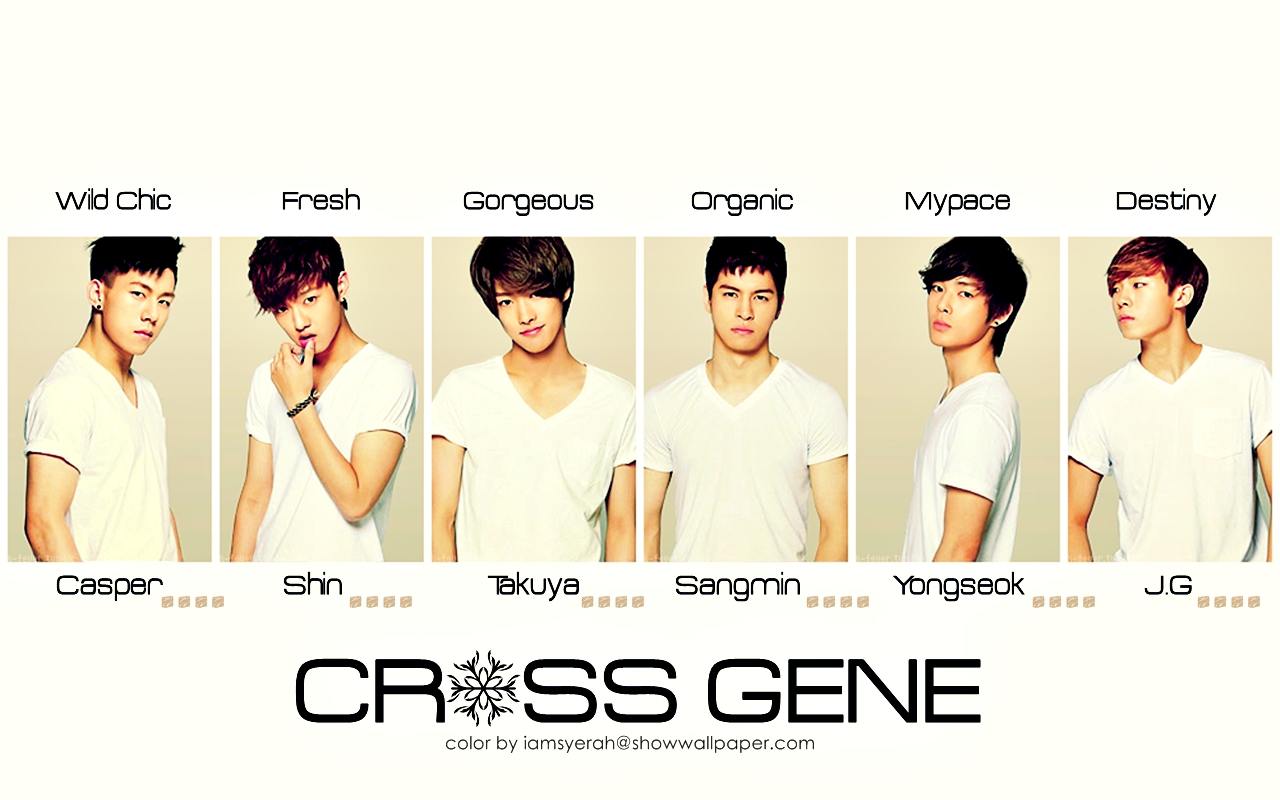 I agree that many kpop group nowadays do have really weird names such as Beast, F.Cuz, Ukiss, 2am, 2pm, 4minute, f(x), C.N.Blue, After School, 2ne1, errrr...............and what else?
If you're new to the world of kpop, or trying to introduce these kpop groups to your non-kpop fan friends, they would probably say, "WTH name is that?" "Why that name?" and "Why are there so many groups?"
Yes, I do agree that the kpop music industry is getting a little too saturated nowadays with more than 5 groups debuting each year.
Let me bring you back to year 2008, when I was first introduced to the kpop world by my friends. Back then, I only knew about popular groups like TVXQ, Super Junior, Girl's Generation and Wonder Girls. BoA is the only female solo singer I knew other than Rain, who also famous after starring in the famous korean drama 'Full House'. I'm pretty sure you have watched 'Full House' before. If you didn't, hmm........I don't know but 'Full House' was the first korean drama that I enjoyed watching with my family. Dae Jang Geum(Jewel in the Palace) too!
Ok, come back, come back......what was I introducing already?
Oh, it's CROSS GENE.
Since the amount of kpop groups debuting per year is too much for me, it's hard for me to keep up with all the new groups and songs, not to mention my own life. I've never heard of this group before until I watched the recent korean drama 'Big' did I knew the existence of this group. (Actually, this group just debuted this year) One of the CROSS GENE members acted in that korean drama and through some Youtube comments only that I found out about it.
That's him, the CROSS GENE member, Shin Won Ho in the korean drama 'Big'.
Alright, alright, here's the video for their debut performance.
Did you watch it?
AHAHAHAHAHAHA!!! Seriously, I was laughing all the way at their super weird dance choreography. Was like "What the...? LOL!!! Ahaha!!!" All the way. Actually, I felt a little pitiful for them because a debut performance is suppose to be cool or attractive enough for audience to take a new group seriously but I just can't believe they got this kind of choreography + their song isn't that nice to my ears. It must be quite a disappointment for thier fans. Oh well, they have lots time for improvement so I'll wish them good luck in the competitive music industry.
p/s: Can you spot that blooper moment?
I'm just wondering if he did that accidentally or on purpose? LOL...
Visit this site for more
kpop funny/blooper moments
.
Source: Image from allkpop.
Follow my blog with Bloglovin